Mapillary Plug-in and Output Issues
What steps will reproduce the problem?
What is the expected result?
I am attempting to export images from the Mapillary plug-in in JOSM. I am expecting images with both the GPS coordinate information and the time stamp of when the photo was taken.

What happens instead?
I receive an error that the URL is unable to be loaded from the Mapillary. When I attempt to reload the mapillary images, JOSM states that an error is occurring with the plugin, even though it is up-to-date. I am still able to export images, but they do not include the information I am looking for and because of this I assume it is due to this error occurring with the plug-in. I have seen that this issue has been occurring for others, but I do not understand the proposed solution. I am a new user of JOSM, so I would appreciate a different or further explanation of these solutions.

Please provide any additional information below. Attach a screenshot if possible.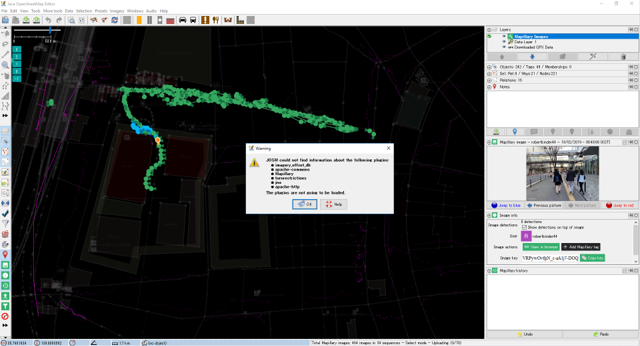 URL:https://josm.openstreetmap.de/svn/trunk
Repository:UUID: 0c6e7542-c601-0410-84e7-c038aed88b3b
Last:Changed Date: 2019-02-02 21:01:18 +0100 (Sat, 02 Feb 2019)
Build-Date:2019-02-04 21:50:11
Revision:14760
Relative:URL: ^/trunk

Identification: JOSM/1.5 (14760 en) Windows 10 64-Bit
OS Build number: Windows 10 Enterprise 1803 (17134)
Memory Usage: 247 MB / 247 MB (68 MB allocated, but free)
Java version: 1.8.0_201-b09, Oracle Corporation, Java HotSpot(TM) Client VM
Screen: \Display0 1920x1200, \Display1 1920x1080
Maximum Screen Size: 1920x1200
Dataset consistency test: No problems found

Plugins:
+ Mapillary (v1.5.17)
+ apache-commons (34506)
+ apache-http (34632)
+ imagery_offset_db (34867)
+ jna (34867)
+ turnrestrictions (34867)

Last errors/warnings:
- W: Could not read from URL https://a.mapillary.com/v3/detections?client_id=T1Fzd20xZjdtR0s1VDk5OFNIOXpYdzoxNDYyOGRkYzUyYTFiMzgz&bbox=139.8032149%2C35.746893%2C139.8103322%2C35.7507194!: java.io.FileNotFoundException: https://a.mapillary.com/v3/detections?client_id=T1Fzd20xZjdtR0s1VDk5OFNIOXpYdzoxNDYyOGRkYzUyYTFiMzgz&bbox=139.8032149%2C35.746893%2C139.8103322%2C35.7507194
- E: Thread main-worker-0 raised java.lang.IllegalArgumentException: The sequence contains downloaded images.
- E: Handled by bug report queue: java.lang.IllegalArgumentException: The sequence contains downloaded images.
- W: Warning - <html>JOSM could not find information about the following plugins:<ul><li>imagery_offset_db</li><li>apache-commons</li><li>Mapillary</li><li>turnrestrictions</li><li>jna</li><li>apache-http</li></ul>The plugins are not going to be loaded.</html>
- E: Thread main-worker-1 raised java.lang.IllegalArgumentException: The sequence contains downloaded images.
- E: Handled by bug report queue: java.lang.IllegalArgumentException: The sequence contains downloaded images.
- W: Warning - <html>JOSM could not find information about the following plugins:<ul><li>imagery_offset_db</li><li>apache-commons</li><li>Mapillary</li><li>turnrestrictions</li><li>jna</li><li>apache-http</li></ul>The plugins are not going to be loaded.</html>
- E: Thread main-worker-2 raised java.lang.IllegalArgumentException: The sequence contains downloaded images.
- E: Handled by bug report queue: java.lang.IllegalArgumentException: The sequence contains downloaded images.
- W: Warning - <html>JOSM could not find information about the following plugins:<ul><li>imagery_offset_db</li><li>apache-commons</li><li>Mapillary</li><li>turnrestrictions</li><li>jna</li><li>apache-http</li></ul>The plugins are not going to be loaded.</html>


=== REPORTED CRASH DATA ===
BugReportExceptionHandler#handleException:
No data collected.

Warning issued by: BugReportExceptionHandler#handleException

=== STACK TRACE ===
Thread: main-worker-2 (424)
java.lang.IllegalArgumentException: The sequence contains downloaded images.
	at org.openstreetmap.josm.plugins.mapillary.oauth.UploadUtils$SequenceUploadRunnable.run(UploadUtils.java:100)
	at java.util.concurrent.ThreadPoolExecutor.runWorker(Unknown Source)
	at java.util.concurrent.ThreadPoolExecutor$Worker.run(Unknown Source)
	at java.lang.Thread.run(Unknown Source)