JosmRuntimeException: orthogonalize error
What steps will reproduce the problem?
Multiple select some buildings/way id: 426727372 and inside it.
Press Q
Error
What is the expected result?
All building selected would be more square

What happens instead?
Pop up containing "An unexpected exception occured" show and suggest to report bug.

Please provide any additional information below. Attach a screenshot if possible.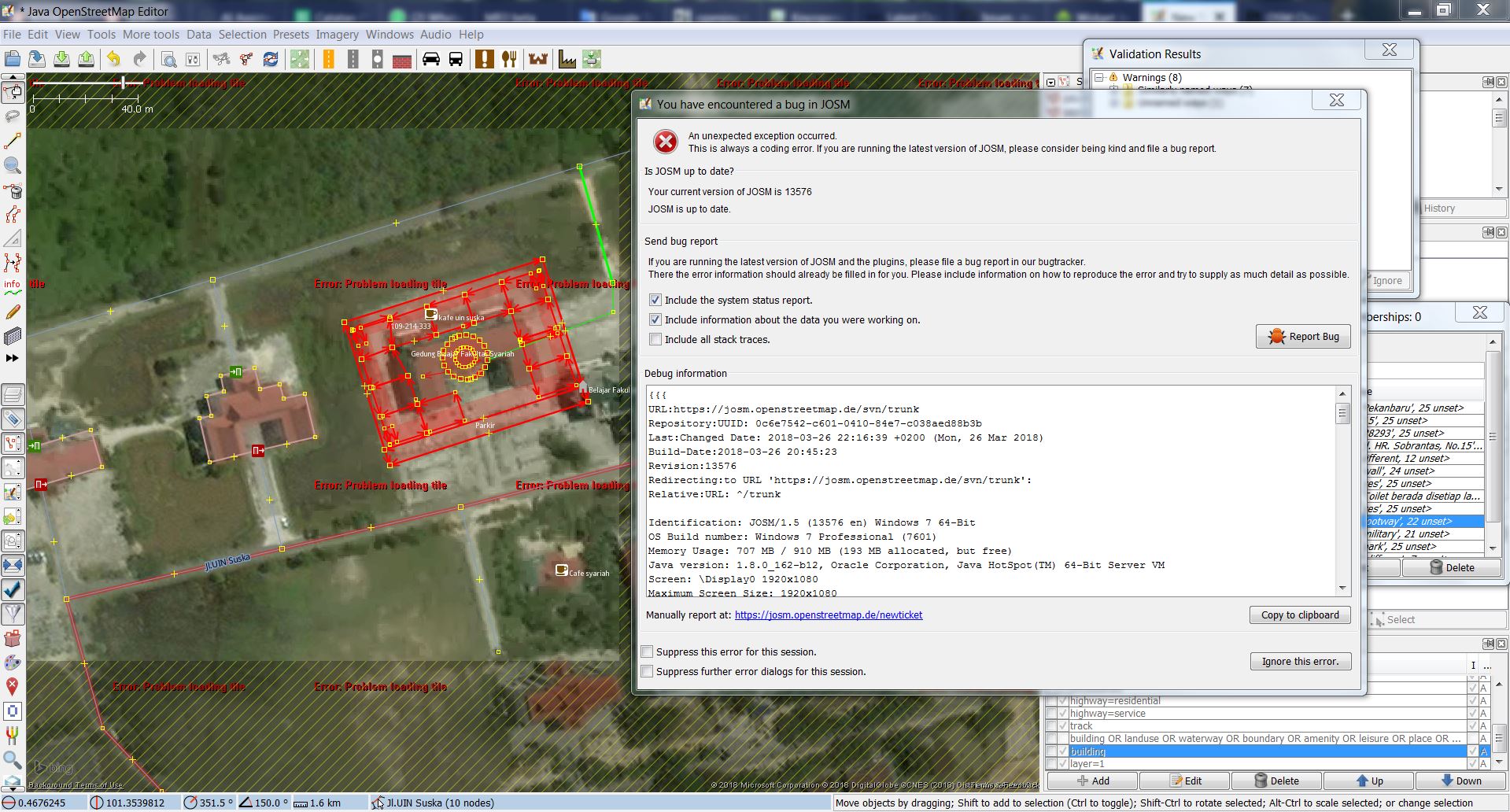 URL:https://josm.openstreetmap.de/svn/trunk
Repository:UUID: 0c6e7542-c601-0410-84e7-c038aed88b3b
Last:Changed Date: 2018-03-26 22:16:39 +0200 (Mon, 26 Mar 2018)
Build-Date:2018-03-26 20:45:23
Revision:13576
Redirecting:to URL 'https://josm.openstreetmap.de/svn/trunk':
Relative:URL: ^/trunk

Identification: JOSM/1.5 (13576 en) Windows 7 64-Bit
OS Build number: Windows 7 Professional (7601)
Memory Usage: 714 MB / 910 MB (272 MB allocated, but free)
Java version: 1.8.0_162-b12, Oracle Corporation, Java HotSpot(TM) 64-Bit Server VM
Screen: \Display0 1920x1080
Maximum Screen Size: 1920x1080
Dataset consistency test: No problems found

Plugins:
+ FastDraw (34109)
+ InfoMode (34038)
+ MovementAlert (1509877002)
+ apache-commons (34109)
+ buildings_tools (34109)
+ changeset-viewer (14)
+ ejml (34126)
+ geojson (80)
+ geotools (34125)
+ imagery_offset_db (34109)
+ jts (34038)
+ merge-overlap (34109)
+ opendata (34132)
+ osm-obj-info (1509723997)
+ rasterfilters (34109)
+ reverter (34109)
+ todo (30303)
+ turnrestrictions (34129)
+ utilsplugin2 (34109)
+ waydownloader (34109)

Tagging presets:
+ C:\Program Files (x86)\JOSM\Indonesia Preset_PDC_v.2.4.2 - Jakarta.xml

Map paint styles:
- C:\Program Files (x86)\JOSM\FB_style.mapcss

Validator rules:
+ C:\Program Files (x86)\JOSM\FB_rules6_test.validator.mapcss

Last errors/warnings:
- W: java.net.SocketTimeoutException: connect timed out
- W: java.net.SocketTimeoutException: connect timed out
- W: java.net.SocketTimeoutException: connect timed out
- W: java.net.SocketTimeoutException: connect timed out
- W: java.net.SocketTimeoutException: connect timed out
- W: java.net.SocketTimeoutException: connect timed out
- W: java.net.SocketTimeoutException: connect timed out
- W: java.net.SocketTimeoutException: connect timed out
- E: Handled by bug report queue: org.openstreetmap.josm.tools.JosmRuntimeException: orthogonalize error
- E: Handled by bug report queue: org.openstreetmap.josm.tools.JosmRuntimeException: orthogonalize error


=== REPORTED CRASH DATA ===
BugReportExceptionHandler#handleException:
No data collected.

Warning issued by: BugReportExceptionHandler#handleException

=== STACK TRACE ===
Thread: AWT-EventQueue-0 (20) of main
org.openstreetmap.josm.tools.JosmRuntimeException: orthogonalize error
	at org.openstreetmap.josm.actions.OrthogonalizeAction.orthogonalize(OrthogonalizeAction.java:305)
	at org.openstreetmap.josm.actions.OrthogonalizeAction.orthogonalize(OrthogonalizeAction.java:222)
	at org.openstreetmap.josm.actions.OrthogonalizeAction.actionPerformed(OrthogonalizeAction.java:168)
	at javax.swing.SwingUtilities.notifyAction(Unknown Source)
	at javax.swing.JComponent.processKeyBinding(Unknown Source)
	at javax.swing.KeyboardManager.fireBinding(Unknown Source)
	at javax.swing.KeyboardManager.fireKeyboardAction(Unknown Source)
	at javax.swing.JComponent.processKeyBindingsForAllComponents(Unknown Source)
	at javax.swing.JComponent.processKeyBindings(Unknown Source)
	at javax.swing.JComponent.processKeyEvent(Unknown Source)
	at java.awt.Component.processEvent(Unknown Source)
	at java.awt.Container.processEvent(Unknown Source)
	at java.awt.Component.dispatchEventImpl(Unknown Source)
	at java.awt.Container.dispatchEventImpl(Unknown Source)
	at java.awt.Component.dispatchEvent(Unknown Source)
	at java.awt.KeyboardFocusManager.redispatchEvent(Unknown Source)
	at java.awt.DefaultKeyboardFocusManager.dispatchKeyEvent(Unknown Source)
	at java.awt.DefaultKeyboardFocusManager.preDispatchKeyEvent(Unknown Source)
	at java.awt.DefaultKeyboardFocusManager.typeAheadAssertions(Unknown Source)
	at java.awt.DefaultKeyboardFocusManager.dispatchEvent(Unknown Source)
	at java.awt.Component.dispatchEventImpl(Unknown Source)
	at java.awt.Container.dispatchEventImpl(Unknown Source)
	at java.awt.Window.dispatchEventImpl(Unknown Source)
	at java.awt.Component.dispatchEvent(Unknown Source)
	at java.awt.EventQueue.dispatchEventImpl(Unknown Source)
	at java.awt.EventQueue.access$500(Unknown Source)
	at java.awt.EventQueue$3.run(Unknown Source)
	at java.awt.EventQueue$3.run(Unknown Source)
	at java.security.AccessController.doPrivileged(Native Method)
	at java.security.ProtectionDomain$JavaSecurityAccessImpl.doIntersectionPrivilege(Unknown Source)
	at java.security.ProtectionDomain$JavaSecurityAccessImpl.doIntersectionPrivilege(Unknown Source)
	at java.awt.EventQueue$4.run(Unknown Source)
	at java.awt.EventQueue$4.run(Unknown Source)
	at java.security.AccessController.doPrivileged(Native Method)
	at java.security.ProtectionDomain$JavaSecurityAccessImpl.doIntersectionPrivilege(Unknown Source)
	at java.awt.EventQueue.dispatchEvent(Unknown Source)
	at java.awt.EventDispatchThread.pumpOneEventForFilters(Unknown Source)
	at java.awt.EventDispatchThread.pumpEventsForFilter(Unknown Source)
	at java.awt.EventDispatchThread.pumpEventsForHierarchy(Unknown Source)
	at java.awt.EventDispatchThread.pumpEvents(Unknown Source)
	at java.awt.EventDispatchThread.pumpEvents(Unknown Source)
	at java.awt.EventDispatchThread.run(Unknown Source)

=== RUNNING THREADS ===
Thread: TMS-downloader-55 (9734) of main
sun.misc.Unsafe.park(Native Method)
java.util.concurrent.locks.LockSupport.parkNanos(Unknown Source)
java.util.concurrent.locks.AbstractQueuedSynchronizer$ConditionObject.awaitNanos(Unknown Source)
java.util.concurrent.LinkedBlockingDeque.pollFirst(Unknown Source)
org.openstreetmap.josm.data.cache.HostLimitQueue.poll(HostLimitQueue.java:84)
org.openstreetmap.josm.data.cache.HostLimitQueue.poll(HostLimitQueue.java:30)
java.util.concurrent.ThreadPoolExecutor.getTask(Unknown Source)
java.util.concurrent.ThreadPoolExecutor.runWorker(Unknown Source)
java.util.concurrent.ThreadPoolExecutor$Worker.run(Unknown Source)
java.lang.Thread.run(Unknown Source)

Thread: TMS-downloader-67 (9746) of main
sun.misc.Unsafe.park(Native Method)
java.util.concurrent.locks.LockSupport.parkNanos(Unknown Source)
java.util.concurrent.locks.AbstractQueuedSynchronizer$ConditionObject.awaitNanos(Unknown Source)
java.util.concurrent.LinkedBlockingDeque.pollFirst(Unknown Source)
org.openstreetmap.josm.data.cache.HostLimitQueue.poll(HostLimitQueue.java:84)
org.openstreetmap.josm.data.cache.HostLimitQueue.poll(HostLimitQueue.java:30)
java.util.concurrent.ThreadPoolExecutor.getTask(Unknown Source)
java.util.concurrent.ThreadPoolExecutor.runWorker(Unknown Source)
java.util.concurrent.ThreadPoolExecutor$Worker.run(Unknown Source)
java.lang.Thread.run(Unknown Source)

Thread: Attach Listener (5) of system

Thread: TMS-downloader-63 (9742) of main
sun.misc.Unsafe.park(Native Method)
java.util.concurrent.locks.LockSupport.parkNanos(Unknown Source)
java.util.concurrent.locks.AbstractQueuedSynchronizer$ConditionObject.awaitNanos(Unknown Source)
java.util.concurrent.LinkedBlockingDeque.pollFirst(Unknown Source)
org.openstreetmap.josm.data.cache.HostLimitQueue.poll(HostLimitQueue.java:84)
org.openstreetmap.josm.data.cache.HostLimitQueue.poll(HostLimitQueue.java:30)
java.util.concurrent.ThreadPoolExecutor.getTask(Unknown Source)
java.util.concurrent.ThreadPoolExecutor.runWorker(Unknown Source)
java.util.concurrent.ThreadPoolExecutor$Worker.run(Unknown Source)
java.lang.Thread.run(Unknown Source)

Thread: ForkJoinPool.commonPool-worker-3 (10073) of main
sun.misc.Unsafe.park(Native Method)
java.util.concurrent.ForkJoinPool.awaitWork(Unknown Source)
java.util.concurrent.ForkJoinPool.runWorker(Unknown Source)
java.util.concurrent.ForkJoinWorkerThread.run(Unknown Source)

Thread: TMS-downloader-70 (9749) of main
sun.misc.Unsafe.park(Native Method)
java.util.concurrent.locks.LockSupport.parkNanos(Unknown Source)
java.util.concurrent.locks.AbstractQueuedSynchronizer$ConditionObject.awaitNanos(Unknown Source)
java.util.concurrent.LinkedBlockingDeque.pollFirst(Unknown Source)
org.openstreetmap.josm.data.cache.HostLimitQueue.poll(HostLimitQueue.java:84)
org.openstreetmap.josm.data.cache.HostLimitQueue.poll(HostLimitQueue.java:30)
java.util.concurrent.ThreadPoolExecutor.getTask(Unknown Source)
java.util.concurrent.ThreadPoolExecutor.runWorker(Unknown Source)
java.util.concurrent.ThreadPoolExecutor$Worker.run(Unknown Source)
java.lang.Thread.run(Unknown Source)

Thread: TMS-downloader-71 (9750) of main
sun.misc.Unsafe.park(Native Method)
java.util.concurrent.locks.LockSupport.parkNanos(Unknown Source)
java.util.concurrent.locks.AbstractQueuedSynchronizer$ConditionObject.awaitNanos(Unknown Source)
java.util.concurrent.LinkedBlockingDeque.pollFirst(Unknown Source)
org.openstreetmap.josm.data.cache.HostLimitQueue.poll(HostLimitQueue.java:84)
org.openstreetmap.josm.data.cache.HostLimitQueue.poll(HostLimitQueue.java:30)
java.util.concurrent.ThreadPoolExecutor.getTask(Unknown Source)
java.util.concurrent.ThreadPoolExecutor.runWorker(Unknown Source)
java.util.concurrent.ThreadPoolExecutor$Worker.run(Unknown Source)
java.lang.Thread.run(Unknown Source)

Thread: TMS-downloader-64 (9743) of main
sun.misc.Unsafe.park(Native Method)
java.util.concurrent.locks.LockSupport.parkNanos(Unknown Source)
java.util.concurrent.locks.AbstractQueuedSynchronizer$ConditionObject.awaitNanos(Unknown Source)
java.util.concurrent.LinkedBlockingDeque.pollFirst(Unknown Source)
org.openstreetmap.josm.data.cache.HostLimitQueue.poll(HostLimitQueue.java:84)
org.openstreetmap.josm.data.cache.HostLimitQueue.poll(HostLimitQueue.java:30)
java.util.concurrent.ThreadPoolExecutor.getTask(Unknown Source)
java.util.concurrent.ThreadPoolExecutor.runWorker(Unknown Source)
java.util.concurrent.ThreadPoolExecutor$Worker.run(Unknown Source)
java.lang.Thread.run(Unknown Source)

Thread: TMS-downloader-72 (9751) of main
sun.misc.Unsafe.park(Native Method)
java.util.concurrent.locks.LockSupport.parkNanos(Unknown Source)
java.util.concurrent.locks.AbstractQueuedSynchronizer$ConditionObject.awaitNanos(Unknown Source)
java.util.concurrent.LinkedBlockingDeque.pollFirst(Unknown Source)
org.openstreetmap.josm.data.cache.HostLimitQueue.poll(HostLimitQueue.java:84)
org.openstreetmap.josm.data.cache.HostLimitQueue.poll(HostLimitQueue.java:30)
java.util.concurrent.ThreadPoolExecutor.getTask(Unknown Source)
java.util.concurrent.ThreadPoolExecutor.runWorker(Unknown Source)
java.util.concurrent.ThreadPoolExecutor$Worker.run(Unknown Source)
java.lang.Thread.run(Unknown Source)

Thread: DestroyJavaVM (60) of main

Thread: Timer-3 (2414) of main
java.lang.Object.wait(Native Method)
java.lang.Object.wait(Unknown Source)
java.util.TimerThread.mainLoop(Unknown Source)
java.util.TimerThread.run(Unknown Source)

Thread: TMS-downloader-56 (9735) of main
sun.misc.Unsafe.park(Native Method)
java.util.concurrent.locks.LockSupport.parkNanos(Unknown Source)
java.util.concurrent.locks.AbstractQueuedSynchronizer$ConditionObject.awaitNanos(Unknown Source)
java.util.concurrent.LinkedBlockingDeque.pollFirst(Unknown Source)
org.openstreetmap.josm.data.cache.HostLimitQueue.poll(HostLimitQueue.java:84)
org.openstreetmap.josm.data.cache.HostLimitQueue.poll(HostLimitQueue.java:30)
java.util.concurrent.ThreadPoolExecutor.getTask(Unknown Source)
java.util.concurrent.ThreadPoolExecutor.runWorker(Unknown Source)
java.util.concurrent.ThreadPoolExecutor$Worker.run(Unknown Source)
java.lang.Thread.run(Unknown Source)

Thread: File Watcher (13) of main
sun.misc.Unsafe.park(Native Method)
java.util.concurrent.locks.LockSupport.park(Unknown Source)
java.util.concurrent.locks.AbstractQueuedSynchronizer$ConditionObject.await(Unknown Source)
java.util.concurrent.LinkedBlockingDeque.takeFirst(Unknown Source)
java.util.concurrent.LinkedBlockingDeque.take(Unknown Source)
sun.nio.fs.AbstractWatchService.take(Unknown Source)
org.openstreetmap.josm.io.FileWatcher.processEvents(FileWatcher.java:107)
org.openstreetmap.josm.io.FileWatcher$$Lambda$4/1512981843.run(Unknown Source)
java.lang.Thread.run(Unknown Source)

Thread: TMS-downloader-53 (9732) of main
sun.misc.Unsafe.park(Native Method)
java.util.concurrent.locks.LockSupport.parkNanos(Unknown Source)
java.util.concurrent.locks.AbstractQueuedSynchronizer$ConditionObject.awaitNanos(Unknown Source)
java.util.concurrent.LinkedBlockingDeque.pollFirst(Unknown Source)
org.openstreetmap.josm.data.cache.HostLimitQueue.poll(HostLimitQueue.java:84)
org.openstreetmap.josm.data.cache.HostLimitQueue.poll(HostLimitQueue.java:30)
java.util.concurrent.ThreadPoolExecutor.getTask(Unknown Source)
java.util.concurrent.ThreadPoolExecutor.runWorker(Unknown Source)
java.util.concurrent.ThreadPoolExecutor$Worker.run(Unknown Source)
java.lang.Thread.run(Unknown Source)

Thread: TMS-downloader-61 (9740) of main
sun.misc.Unsafe.park(Native Method)
java.util.concurrent.locks.LockSupport.parkNanos(Unknown Source)
java.util.concurrent.locks.AbstractQueuedSynchronizer$ConditionObject.awaitNanos(Unknown Source)
java.util.concurrent.LinkedBlockingDeque.pollFirst(Unknown Source)
org.openstreetmap.josm.data.cache.HostLimitQueue.poll(HostLimitQueue.java:84)
org.openstreetmap.josm.data.cache.HostLimitQueue.poll(HostLimitQueue.java:30)
java.util.concurrent.ThreadPoolExecutor.getTask(Unknown Source)
java.util.concurrent.ThreadPoolExecutor.runWorker(Unknown Source)
java.util.concurrent.ThreadPoolExecutor$Worker.run(Unknown Source)
java.lang.Thread.run(Unknown Source)

Thread: TMS-downloader-57 (9736) of main
sun.misc.Unsafe.park(Native Method)
java.util.concurrent.locks.LockSupport.parkNanos(Unknown Source)
java.util.concurrent.locks.AbstractQueuedSynchronizer$ConditionObject.awaitNanos(Unknown Source)
java.util.concurrent.LinkedBlockingDeque.pollFirst(Unknown Source)
org.openstreetmap.josm.data.cache.HostLimitQueue.poll(HostLimitQueue.java:84)
org.openstreetmap.josm.data.cache.HostLimitQueue.poll(HostLimitQueue.java:30)
java.util.concurrent.ThreadPoolExecutor.getTask(Unknown Source)
java.util.concurrent.ThreadPoolExecutor.runWorker(Unknown Source)
java.util.concurrent.ThreadPoolExecutor$Worker.run(Unknown Source)
java.lang.Thread.run(Unknown Source)

Thread: AWT-Windows (18) of system
sun.awt.windows.WToolkit.eventLoop(Native Method)
sun.awt.windows.WToolkit.run(Unknown Source)
java.lang.Thread.run(Unknown Source)

Thread: message-notifier-0 (59) of main
sun.misc.Unsafe.park(Native Method)
java.util.concurrent.locks.LockSupport.parkNanos(Unknown Source)
java.util.concurrent.locks.AbstractQueuedSynchronizer$ConditionObject.awaitNanos(Unknown Source)
java.util.concurrent.ScheduledThreadPoolExecutor$DelayedWorkQueue.take(Unknown Source)
java.util.concurrent.ScheduledThreadPoolExecutor$DelayedWorkQueue.take(Unknown Source)
java.util.concurrent.ThreadPoolExecutor.getTask(Unknown Source)
java.util.concurrent.ThreadPoolExecutor.runWorker(Unknown Source)
java.util.concurrent.ThreadPoolExecutor$Worker.run(Unknown Source)
java.lang.Thread.run(Unknown Source)

Thread: styled-map-renderer-619 (9976) of main
sun.misc.Unsafe.park(Native Method)
java.util.concurrent.ForkJoinPool.awaitWork(Unknown Source)
java.util.concurrent.ForkJoinPool.runWorker(Unknown Source)
java.util.concurrent.ForkJoinWorkerThread.run(Unknown Source)

Thread: Weak reference cleaner (25) of main
java.lang.Object.wait(Native Method)
java.lang.ref.ReferenceQueue.remove(Unknown Source)
java.lang.ref.ReferenceQueue.remove(Unknown Source)
org.openstreetmap.josm.tools.ListenableWeakReference.clean(ListenableWeakReference.java:60)
org.openstreetmap.josm.tools.ListenableWeakReference$$Lambda$102/790722099.run(Unknown Source)
java.lang.Thread.run(Unknown Source)

Thread: ForkJoinPool.commonPool-worker-1 (10140) of main
sun.misc.Unsafe.park(Native Method)
java.util.concurrent.ForkJoinPool.awaitWork(Unknown Source)
java.util.concurrent.ForkJoinPool.runWorker(Unknown Source)
java.util.concurrent.ForkJoinWorkerThread.run(Unknown Source)

Thread: AWT-Shutdown (21) of system
java.lang.Object.wait(Native Method)
java.lang.Object.wait(Unknown Source)
sun.awt.AWTAutoShutdown.run(Unknown Source)
java.lang.Thread.run(Unknown Source)

Thread: TMS-downloader-62 (9741) of main
sun.misc.Unsafe.park(Native Method)
java.util.concurrent.locks.LockSupport.parkNanos(Unknown Source)
java.util.concurrent.locks.AbstractQueuedSynchronizer$ConditionObject.awaitNanos(Unknown Source)
java.util.concurrent.LinkedBlockingDeque.pollFirst(Unknown Source)
org.openstreetmap.josm.data.cache.HostLimitQueue.poll(HostLimitQueue.java:84)
org.openstreetmap.josm.data.cache.HostLimitQueue.poll(HostLimitQueue.java:30)
java.util.concurrent.ThreadPoolExecutor.getTask(Unknown Source)
java.util.concurrent.ThreadPoolExecutor.runWorker(Unknown Source)
java.util.concurrent.ThreadPoolExecutor$Worker.run(Unknown Source)
java.lang.Thread.run(Unknown Source)

Thread: TMS-downloader-59 (9738) of main
sun.misc.Unsafe.park(Native Method)
java.util.concurrent.locks.LockSupport.parkNanos(Unknown Source)
java.util.concurrent.locks.AbstractQueuedSynchronizer$ConditionObject.awaitNanos(Unknown Source)
java.util.concurrent.LinkedBlockingDeque.pollFirst(Unknown Source)
org.openstreetmap.josm.data.cache.HostLimitQueue.poll(HostLimitQueue.java:84)
org.openstreetmap.josm.data.cache.HostLimitQueue.poll(HostLimitQueue.java:30)
java.util.concurrent.ThreadPoolExecutor.getTask(Unknown Source)
java.util.concurrent.ThreadPoolExecutor.runWorker(Unknown Source)
java.util.concurrent.ThreadPoolExecutor$Worker.run(Unknown Source)
java.lang.Thread.run(Unknown Source)

Thread: image-fetcher-0 (35) of main
sun.misc.Unsafe.park(Native Method)
java.util.concurrent.locks.LockSupport.park(Unknown Source)
java.util.concurrent.locks.AbstractQueuedSynchronizer$ConditionObject.await(Unknown Source)
java.util.concurrent.LinkedBlockingQueue.take(Unknown Source)
java.util.concurrent.ThreadPoolExecutor.getTask(Unknown Source)
java.util.concurrent.ThreadPoolExecutor.runWorker(Unknown Source)
java.util.concurrent.ThreadPoolExecutor$Worker.run(Unknown Source)
java.lang.Thread.run(Unknown Source)

Thread: bug-report-display (10137) of main
java.lang.Object.wait(Native Method)
java.lang.Object.wait(Unknown Source)
org.openstreetmap.josm.tools.bugreport.BugReportQueue.getNext(BugReportQueue.java:123)
org.openstreetmap.josm.tools.bugreport.BugReportQueue.access$100(BugReportQueue.java:17)
org.openstreetmap.josm.tools.bugreport.BugReportQueue$BugReportDisplayRunnable.run(BugReportQueue.java:99)
java.lang.Thread.run(Unknown Source)

Thread: TMS-downloader-66 (9745) of main
sun.misc.Unsafe.park(Native Method)
java.util.concurrent.locks.LockSupport.parkNanos(Unknown Source)
java.util.concurrent.locks.AbstractQueuedSynchronizer$ConditionObject.awaitNanos(Unknown Source)
java.util.concurrent.LinkedBlockingDeque.pollFirst(Unknown Source)
org.openstreetmap.josm.data.cache.HostLimitQueue.poll(HostLimitQueue.java:84)
org.openstreetmap.josm.data.cache.HostLimitQueue.poll(HostLimitQueue.java:30)
java.util.concurrent.ThreadPoolExecutor.getTask(Unknown Source)
java.util.concurrent.ThreadPoolExecutor.runWorker(Unknown Source)
java.util.concurrent.ThreadPoolExecutor$Worker.run(Unknown Source)
java.lang.Thread.run(Unknown Source)

Thread: Map Status Collector (72) of main
java.lang.Object.wait(Native Method)
java.lang.Object.wait(Unknown Source)
java.awt.EventQueue.invokeAndWait(Unknown Source)
java.awt.EventQueue.invokeAndWait(Unknown Source)
org.openstreetmap.josm.gui.MapStatus$Collector.run(MapStatus.java:442)
java.lang.Thread.run(Unknown Source)

Thread: Thread-1 (12) of main
sun.nio.fs.WindowsNativeDispatcher.GetQueuedCompletionStatus0(Native Method)
sun.nio.fs.WindowsNativeDispatcher.GetQueuedCompletionStatus(Unknown Source)
sun.nio.fs.WindowsWatchService$Poller.run(Unknown Source)
java.lang.Thread.run(Unknown Source)

Thread: ForkJoinPool.commonPool-worker-6 (10141)
sun.misc.Unsafe.park(Native Method)
java.util.concurrent.ForkJoinPool.awaitWork(Unknown Source)
java.util.concurrent.ForkJoinPool.runWorker(Unknown Source)
java.util.concurrent.ForkJoinWorkerThread.run(Unknown Source)

Thread: AWT-EventQueue-0 (20) of main
Stacktrace see above.

Thread: Finalizer (3) of system
java.lang.Object.wait(Native Method)
java.lang.ref.ReferenceQueue.remove(Unknown Source)
java.lang.ref.ReferenceQueue.remove(Unknown Source)
java.lang.ref.Finalizer$FinalizerThread.run(Unknown Source)

Thread: RemoteControl HTTP Server (55) of main
java.net.DualStackPlainSocketImpl.accept0(Native Method)
java.net.DualStackPlainSocketImpl.socketAccept(Unknown Source)
java.net.AbstractPlainSocketImpl.accept(Unknown Source)
java.net.PlainSocketImpl.accept(Unknown Source)
java.net.ServerSocket.implAccept(Unknown Source)
java.net.ServerSocket.accept(Unknown Source)
org.openstreetmap.josm.io.remotecontrol.RemoteControlHttpServer.run(RemoteControlHttpServer.java:104)

Thread: TimerQueue (23) of system
sun.misc.Unsafe.park(Native Method)
java.util.concurrent.locks.LockSupport.parkNanos(Unknown Source)
java.util.concurrent.locks.AbstractQueuedSynchronizer$ConditionObject.awaitNanos(Unknown Source)
java.util.concurrent.DelayQueue.take(Unknown Source)
javax.swing.TimerQueue.run(Unknown Source)
java.lang.Thread.run(Unknown Source)

Thread: Reference Handler (2) of system
java.lang.Object.wait(Native Method)
java.lang.Object.wait(Unknown Source)
java.lang.ref.Reference.tryHandlePending(Unknown Source)
java.lang.ref.Reference$ReferenceHandler.run(Unknown Source)

Thread: Java2D Disposer (15) of system
java.lang.Object.wait(Native Method)
java.lang.ref.ReferenceQueue.remove(Unknown Source)
java.lang.ref.ReferenceQueue.remove(Unknown Source)
sun.java2d.Disposer.run(Unknown Source)
java.lang.Thread.run(Unknown Source)

Thread: main-worker-0 (67) of main
sun.misc.Unsafe.park(Native Method)
java.util.concurrent.locks.LockSupport.park(Unknown Source)
java.util.concurrent.locks.AbstractQueuedSynchronizer$ConditionObject.await(Unknown Source)
java.util.concurrent.LinkedBlockingQueue.take(Unknown Source)
java.util.concurrent.ThreadPoolExecutor.getTask(Unknown Source)
java.util.concurrent.ThreadPoolExecutor.runWorker(Unknown Source)
java.util.concurrent.ThreadPoolExecutor$Worker.run(Unknown Source)
java.lang.Thread.run(Unknown Source)

Thread: ForkJoinPool.commonPool-worker-0 (10110)
sun.misc.Unsafe.park(Native Method)
java.util.concurrent.ForkJoinPool.awaitWork(Unknown Source)
java.util.concurrent.ForkJoinPool.runWorker(Unknown Source)
java.util.concurrent.ForkJoinWorkerThread.run(Unknown Source)

Thread: Timer-0 (51) of main
java.lang.Object.wait(Native Method)
java.util.TimerThread.mainLoop(Unknown Source)
java.util.TimerThread.run(Unknown Source)

Thread: TMS-downloader-60 (9739) of main
sun.misc.Unsafe.park(Native Method)
java.util.concurrent.locks.LockSupport.parkNanos(Unknown Source)
java.util.concurrent.locks.AbstractQueuedSynchronizer$ConditionObject.awaitNanos(Unknown Source)
java.util.concurrent.LinkedBlockingDeque.pollFirst(Unknown Source)
org.openstreetmap.josm.data.cache.HostLimitQueue.poll(HostLimitQueue.java:84)
org.openstreetmap.josm.data.cache.HostLimitQueue.poll(HostLimitQueue.java:30)
java.util.concurrent.ThreadPoolExecutor.getTask(Unknown Source)
java.util.concurrent.ThreadPoolExecutor.runWorker(Unknown Source)
java.util.concurrent.ThreadPoolExecutor$Worker.run(Unknown Source)
java.lang.Thread.run(Unknown Source)

Thread: Signal Dispatcher (4) of system

Thread: TMS-downloader-73 (9752) of main
sun.misc.Unsafe.park(Native Method)
java.util.concurrent.locks.LockSupport.parkNanos(Unknown Source)
java.util.concurrent.locks.AbstractQueuedSynchronizer$ConditionObject.awaitNanos(Unknown Source)
java.util.concurrent.LinkedBlockingDeque.pollFirst(Unknown Source)
org.openstreetmap.josm.data.cache.HostLimitQueue.poll(HostLimitQueue.java:84)
org.openstreetmap.josm.data.cache.HostLimitQueue.poll(HostLimitQueue.java:30)
java.util.concurrent.ThreadPoolExecutor.getTask(Unknown Source)
java.util.concurrent.ThreadPoolExecutor.runWorker(Unknown Source)
java.util.concurrent.ThreadPoolExecutor$Worker.run(Unknown Source)
java.lang.Thread.run(Unknown Source)

Thread: styled-map-renderer-612 (9860) of main
sun.misc.Unsafe.park(Native Method)
java.util.concurrent.ForkJoinPool.awaitWork(Unknown Source)
java.util.concurrent.ForkJoinPool.runWorker(Unknown Source)
java.util.concurrent.ForkJoinWorkerThread.run(Unknown Source)

Thread: ForkJoinPool.commonPool-worker-4 (10109)
sun.misc.Unsafe.park(Native Method)
java.util.concurrent.ForkJoinPool.awaitWork(Unknown Source)
java.util.concurrent.ForkJoinPool.runWorker(Unknown Source)
java.util.concurrent.ForkJoinWorkerThread.run(Unknown Source)

Thread: styled-map-renderer-617 (9974)
sun.misc.Unsafe.park(Native Method)
java.util.concurrent.ForkJoinPool.awaitWork(Unknown Source)
java.util.concurrent.ForkJoinPool.runWorker(Unknown Source)
java.util.concurrent.ForkJoinWorkerThread.run(Unknown Source)

Thread: GT authority factory disposer (45) of main
java.lang.Object.wait(Native Method)
java.lang.Object.wait(Unknown Source)
java.util.TimerThread.mainLoop(Unknown Source)
java.util.TimerThread.run(Unknown Source)

Thread: TMS-downloader-69 (9748) of main
sun.misc.Unsafe.park(Native Method)
java.util.concurrent.locks.LockSupport.parkNanos(Unknown Source)
java.util.concurrent.locks.AbstractQueuedSynchronizer$ConditionObject.awaitNanos(Unknown Source)
java.util.concurrent.LinkedBlockingDeque.pollFirst(Unknown Source)
org.openstreetmap.josm.data.cache.HostLimitQueue.poll(HostLimitQueue.java:84)
org.openstreetmap.josm.data.cache.HostLimitQueue.poll(HostLimitQueue.java:30)
java.util.concurrent.ThreadPoolExecutor.getTask(Unknown Source)
java.util.concurrent.ThreadPoolExecutor.runWorker(Unknown Source)
java.util.concurrent.ThreadPoolExecutor$Worker.run(Unknown Source)
java.lang.Thread.run(Unknown Source)

Thread: TMS-downloader-74 (9753) of main
sun.misc.Unsafe.park(Native Method)
java.util.concurrent.locks.LockSupport.parkNanos(Unknown Source)
java.util.concurrent.locks.AbstractQueuedSynchronizer$ConditionObject.awaitNanos(Unknown Source)
java.util.concurrent.LinkedBlockingDeque.pollFirst(Unknown Source)
org.openstreetmap.josm.data.cache.HostLimitQueue.poll(HostLimitQueue.java:84)
org.openstreetmap.josm.data.cache.HostLimitQueue.poll(HostLimitQueue.java:30)
java.util.concurrent.ThreadPoolExecutor.getTask(Unknown Source)
java.util.concurrent.ThreadPoolExecutor.runWorker(Unknown Source)
java.util.concurrent.ThreadPoolExecutor$Worker.run(Unknown Source)
java.lang.Thread.run(Unknown Source)

Thread: TMS-downloader-50 (9729) of main
sun.misc.Unsafe.park(Native Method)
java.util.concurrent.locks.LockSupport.parkNanos(Unknown Source)
java.util.concurrent.locks.AbstractQueuedSynchronizer$ConditionObject.awaitNanos(Unknown Source)
java.util.concurrent.LinkedBlockingDeque.pollFirst(Unknown Source)
org.openstreetmap.josm.data.cache.HostLimitQueue.poll(HostLimitQueue.java:84)
org.openstreetmap.josm.data.cache.HostLimitQueue.poll(HostLimitQueue.java:30)
java.util.concurrent.ThreadPoolExecutor.getTask(Unknown Source)
java.util.concurrent.ThreadPoolExecutor.runWorker(Unknown Source)
java.util.concurrent.ThreadPoolExecutor$Worker.run(Unknown Source)
java.lang.Thread.run(Unknown Source)

Thread: styled-map-renderer-614 (9919) of main
sun.misc.Unsafe.park(Native Method)
java.util.concurrent.ForkJoinPool.awaitWork(Unknown Source)
java.util.concurrent.ForkJoinPool.runWorker(Unknown Source)
java.util.concurrent.ForkJoinWorkerThread.run(Unknown Source)

Thread: Timer-2 (69) of main
java.lang.Object.wait(Native Method)
java.lang.Object.wait(Unknown Source)
java.util.TimerThread.mainLoop(Unknown Source)
java.util.TimerThread.run(Unknown Source)

Thread: Timer-1 (57) of main
java.lang.Object.wait(Native Method)
java.util.TimerThread.mainLoop(Unknown Source)
java.util.TimerThread.run(Unknown Source)

Thread: JCS-ElementEventQueue-Thread-7 (44) of main
sun.misc.Unsafe.park(Native Method)
java.util.concurrent.locks.LockSupport.park(Unknown Source)
java.util.concurrent.locks.AbstractQueuedSynchronizer$ConditionObject.await(Unknown Source)
java.util.concurrent.LinkedBlockingQueue.take(Unknown Source)
java.util.concurrent.ThreadPoolExecutor.getTask(Unknown Source)
java.util.concurrent.ThreadPoolExecutor.runWorker(Unknown Source)
java.util.concurrent.ThreadPoolExecutor$Worker.run(Unknown Source)
java.lang.Thread.run(Unknown Source)

Thread: styled-map-renderer-620 (10048) of main
sun.misc.Unsafe.park(Native Method)
java.util.concurrent.ForkJoinPool.awaitWork(Unknown Source)
java.util.concurrent.ForkJoinPool.runWorker(Unknown Source)
java.util.concurrent.ForkJoinWorkerThread.run(Unknown Source)

Thread: TMS-downloader-54 (9733) of main
sun.misc.Unsafe.park(Native Method)
java.util.concurrent.locks.LockSupport.parkNanos(Unknown Source)
java.util.concurrent.locks.AbstractQueuedSynchronizer$ConditionObject.awaitNanos(Unknown Source)
java.util.concurrent.LinkedBlockingDeque.pollFirst(Unknown Source)
org.openstreetmap.josm.data.cache.HostLimitQueue.poll(HostLimitQueue.java:84)
org.openstreetmap.josm.data.cache.HostLimitQueue.poll(HostLimitQueue.java:30)
java.util.concurrent.ThreadPoolExecutor.getTask(Unknown Source)
java.util.concurrent.ThreadPoolExecutor.runWorker(Unknown Source)
java.util.concurrent.ThreadPoolExecutor$Worker.run(Unknown Source)
java.lang.Thread.run(Unknown Source)

Thread: TMS-downloader-68 (9747) of main
sun.misc.Unsafe.park(Native Method)
java.util.concurrent.locks.LockSupport.parkNanos(Unknown Source)
java.util.concurrent.locks.AbstractQueuedSynchronizer$ConditionObject.awaitNanos(Unknown Source)
java.util.concurrent.LinkedBlockingDeque.pollFirst(Unknown Source)
org.openstreetmap.josm.data.cache.HostLimitQueue.poll(HostLimitQueue.java:84)
org.openstreetmap.josm.data.cache.HostLimitQueue.poll(HostLimitQueue.java:30)
java.util.concurrent.ThreadPoolExecutor.getTask(Unknown Source)
java.util.concurrent.ThreadPoolExecutor.runWorker(Unknown Source)
java.util.concurrent.ThreadPoolExecutor$Worker.run(Unknown Source)
java.lang.Thread.run(Unknown Source)

Thread: TMS-downloader-65 (9744) of main
sun.misc.Unsafe.park(Native Method)
java.util.concurrent.locks.LockSupport.parkNanos(Unknown Source)
java.util.concurrent.locks.AbstractQueuedSynchronizer$ConditionObject.awaitNanos(Unknown Source)
java.util.concurrent.LinkedBlockingDeque.pollFirst(Unknown Source)
org.openstreetmap.josm.data.cache.HostLimitQueue.poll(HostLimitQueue.java:84)
org.openstreetmap.josm.data.cache.HostLimitQueue.poll(HostLimitQueue.java:30)
java.util.concurrent.ThreadPoolExecutor.getTask(Unknown Source)
java.util.concurrent.ThreadPoolExecutor.runWorker(Unknown Source)
java.util.concurrent.ThreadPoolExecutor$Worker.run(Unknown Source)
java.lang.Thread.run(Unknown Source)

Thread: TMS-downloader-51 (9730) of main
sun.misc.Unsafe.park(Native Method)
java.util.concurrent.locks.LockSupport.parkNanos(Unknown Source)
java.util.concurrent.locks.AbstractQueuedSynchronizer$ConditionObject.awaitNanos(Unknown Source)
java.util.concurrent.LinkedBlockingDeque.pollFirst(Unknown Source)
org.openstreetmap.josm.data.cache.HostLimitQueue.poll(HostLimitQueue.java:84)
org.openstreetmap.josm.data.cache.HostLimitQueue.poll(HostLimitQueue.java:30)
java.util.concurrent.ThreadPoolExecutor.getTask(Unknown Source)
java.util.concurrent.ThreadPoolExecutor.runWorker(Unknown Source)
java.util.concurrent.ThreadPoolExecutor$Worker.run(Unknown Source)
java.lang.Thread.run(Unknown Source)

Thread: ForkJoinPool.commonPool-worker-7 (10108) of main
sun.misc.Unsafe.park(Native Method)
java.util.concurrent.ForkJoinPool.awaitWork(Unknown Source)
java.util.concurrent.ForkJoinPool.runWorker(Unknown Source)
java.util.concurrent.ForkJoinWorkerThread.run(Unknown Source)

Thread: TMS-downloader-52 (9731) of main
sun.misc.Unsafe.park(Native Method)
java.util.concurrent.locks.LockSupport.parkNanos(Unknown Source)
java.util.concurrent.locks.AbstractQueuedSynchronizer$ConditionObject.awaitNanos(Unknown Source)
java.util.concurrent.LinkedBlockingDeque.pollFirst(Unknown Source)
org.openstreetmap.josm.data.cache.HostLimitQueue.poll(HostLimitQueue.java:84)
org.openstreetmap.josm.data.cache.HostLimitQueue.poll(HostLimitQueue.java:30)
java.util.concurrent.ThreadPoolExecutor.getTask(Unknown Source)
java.util.concurrent.ThreadPoolExecutor.runWorker(Unknown Source)
java.util.concurrent.ThreadPoolExecutor$Worker.run(Unknown Source)
java.lang.Thread.run(Unknown Source)

Thread: TMS-downloader-58 (9737) of main
sun.misc.Unsafe.park(Native Method)
java.util.concurrent.locks.LockSupport.parkNanos(Unknown Source)
java.util.concurrent.locks.AbstractQueuedSynchronizer$ConditionObject.awaitNanos(Unknown Source)
java.util.concurrent.LinkedBlockingDeque.pollFirst(Unknown Source)
org.openstreetmap.josm.data.cache.HostLimitQueue.poll(HostLimitQueue.java:84)
org.openstreetmap.josm.data.cache.HostLimitQueue.poll(HostLimitQueue.java:30)
java.util.concurrent.ThreadPoolExecutor.getTask(Unknown Source)
java.util.concurrent.ThreadPoolExecutor.runWorker(Unknown Source)
java.util.concurrent.ThreadPoolExecutor$Worker.run(Unknown Source)
java.lang.Thread.run(Unknown Source)

Thread: WeakCollectionCleaner (50) of main
java.lang.Object.wait(Native Method)
java.lang.ref.ReferenceQueue.remove(Unknown Source)
java.lang.ref.ReferenceQueue.remove(Unknown Source)
org.geotools.util.WeakCollectionCleaner.run(WeakCollectionCleaner.java:77)

Thread: ForkJoinPool.commonPool-worker-2 (10106) of main
sun.misc.Unsafe.park(Native Method)
java.util.concurrent.ForkJoinPool.awaitWork(Unknown Source)
java.util.concurrent.ForkJoinPool.runWorker(Unknown Source)
java.util.concurrent.ForkJoinWorkerThread.run(Unknown Source)

Thread: Swing-Shell (3832) of system
sun.misc.Unsafe.park(Native Method)
java.util.concurrent.locks.LockSupport.park(Unknown Source)
java.util.concurrent.locks.AbstractQueuedSynchronizer$ConditionObject.await(Unknown Source)
java.util.concurrent.LinkedBlockingQueue.take(Unknown Source)
java.util.concurrent.ThreadPoolExecutor.getTask(Unknown Source)
java.util.concurrent.ThreadPoolExecutor.runWorker(Unknown Source)
java.util.concurrent.ThreadPoolExecutor$Worker.run(Unknown Source)
sun.awt.shell.Win32ShellFolderManager2$ComInvoker$3.run(Unknown Source)
java.lang.Thread.run(Unknown Source)

Thread: RemoteControl HTTP Server (56) of main
java.net.DualStackPlainSocketImpl.accept0(Native Method)
java.net.DualStackPlainSocketImpl.socketAccept(Unknown Source)
java.net.AbstractPlainSocketImpl.accept(Unknown Source)
java.net.PlainSocketImpl.accept(Unknown Source)
java.net.ServerSocket.implAccept(Unknown Source)
java.net.ServerSocket.accept(Unknown Source)
org.openstreetmap.josm.io.remotecontrol.RemoteControlHttpServer.run(RemoteControlHttpServer.java:104)