[patch] export relation to GPX file or convert to a new GPX layer (e.g. for further editing such as simplify way)
I've tackled on the lack of an export feature for route relations,
and this is what I've come up with..

..in the hope it will be useful to someone.

The algorithm runs recursively on the found relation members,
but ignores incomplete relations (i.e. downloading of incomplete
relations is not done automatically currently, but could be added).

sort order of the relations is untouched and roles forward/backward are recognized
single-membered roundabouts are silently skipped (i.e. no new trkSeg is started)
loops (forward/backward) should be handled correctly (i.e. one direction is ignored, depending on the menu entry chosen)
The aim is primarily to reply a single segmented track from A to B, but if the sort
order of the relation does not provide this, multiple track segments for the generated
GPX are created. We could run the relationSorter and try to fix a broken order before
GPX export, but this discourages users to actually fix broken route relations, so the
algorithm _intentionally_ takes the sort order of the relation as they are.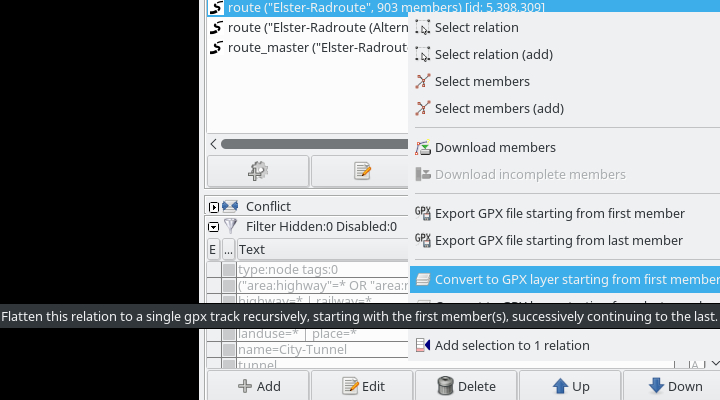 Feel free to test or modify,
Greetings