Validator incorrectly folds first-level categories when ignoring elements
What steps will reproduce the problem?
Open validator layer
Unfolds all (or some of them) categories
Ignore any element
What is the expected result?
The element is ignored, remaining items are untouched (folded categories remain folded, unfolded ones remain unfolded).

What happens instead?
The element is ignored, but all "first level" categories are automatically folded (for instance, the "unnamed ways" category). On the other hand, "two levels and more" categories are kept as expected (for instance, the "missing attribute" category).

Please provide any additional information below. Attach a screenshot if possible.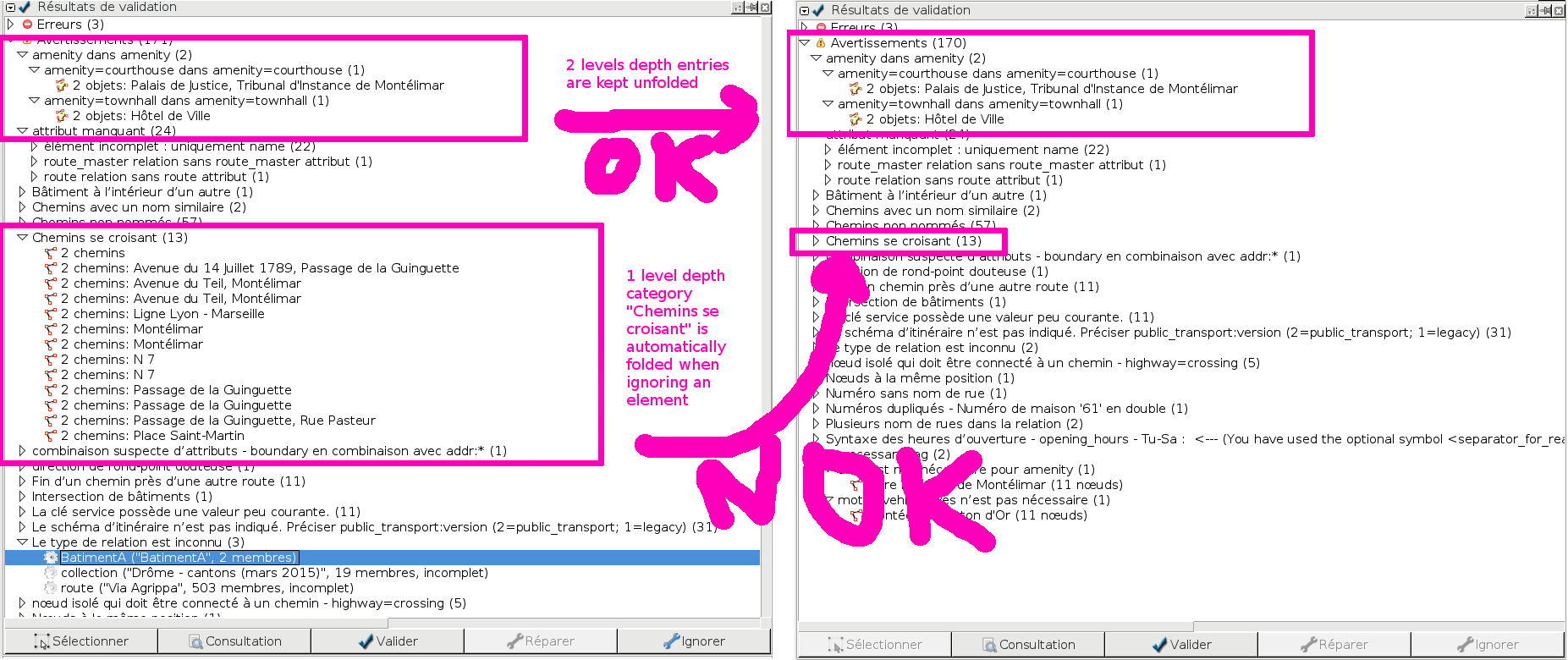 Build-Date:2017-04-18 15:22:18
Revision:11835
Is-Local-Build:true

Identification: JOSM/1.5 (11835 SVN fr) Linux Debian GNU/Linux 9.0 (stretch)
Memory Usage: 822 MB / 1760 MB (266 MB allocated, but free)
Java version: 1.8.0_121-8u121-b13-4-b13, Oracle Corporation, OpenJDK 64-Bit Server VM
Screen: :0.0 1920x1080
Maximum Screen Size: 1920x1080
Java package: openjdk-8-jre:amd64-8u121-b13-4
Java ATK Wrapper package: libatk-wrapper-java:all-0.33.3-13
VM arguments: [-agentlib:jdwp=transport=dt_socket,suspend=y,address=localhost:36421, -Dfile.encoding=UTF-8]
Dataset consistency test: No problems found

Plugins:
+ OpeningHoursEditor (33185)
+ PicLayer (33148)
+ buildings_tools (33004)
+ conflation (0.5.3)
+ jts (32699)
+ rex (26)
+ todo (30000)
+ utilsplugin2 (33212)

Last errors/warnings:
- W: No configuration settings found.  Using hardcoded default values for all pools.
- W: Region [TMS_BLOCK_v2] Resetting cache
- W: Old style SideButton usage for action org.openstreetmap.josm.plugins.todo.TodoDialog$SelectAction@238f19ea
- W: Old style SideButton usage for action org.openstreetmap.josm.plugins.todo.TodoDialog$AddAction@2e1b6406
- W: Old style SideButton usage for action org.openstreetmap.josm.plugins.todo.TodoDialog$PassAction@4f9e9ce0
- W: Old style SideButton usage for action org.openstreetmap.josm.plugins.todo.TodoDialog$MarkAction@793e5027
- W: Old style SideButton usage for action org.openstreetmap.josm.plugins.todo.TodoDialog$MarkSelectedAction@14bc253d