Hovering over a Mapillary point on the map causes an exception and doesn't load image
What steps will reproduce the problem?
Download some OSM data in an area with available images
Enable Mapillary overlay
Hover over a capture point
What is the expected result?
A thumbnail appears in the Mapillary pane, like it has always been.

What happens instead?
An exception occurs. Image is not shown. Clicking the point doesn't work either.

Please provide any additional information below. Attach a screenshot if possible.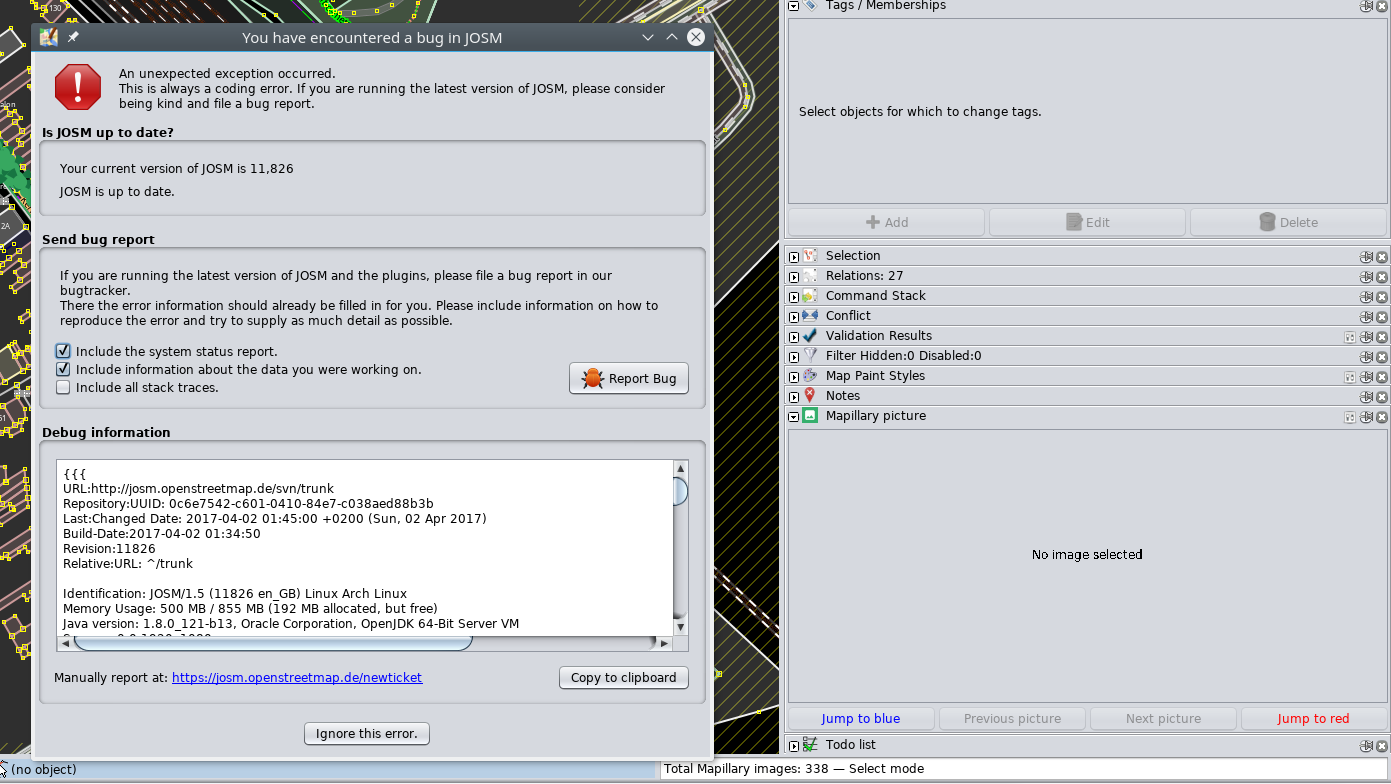 URL:http://josm.openstreetmap.de/svn/trunk
Repository:UUID: 0c6e7542-c601-0410-84e7-c038aed88b3b
Last:Changed Date: 2017-04-02 01:45:00 +0200 (Sun, 02 Apr 2017)
Build-Date:2017-04-02 01:34:50
Revision:11826
Relative:URL: ^/trunk

Identification: JOSM/1.5 (11826 en_GB) Linux Arch Linux
Memory Usage: 511 MB / 855 MB (211 MB allocated, but free)
Java version: 1.8.0_121-b13, Oracle Corporation, OpenJDK 64-Bit Server VM
Screen: :0.0 1920x1080
Maximum Screen Size: 1920x1080
VM arguments: [-Djosm.restart=true, -Dawt.useSystemAAFontSettings=on]
Dataset consistency test: No problems found

Plugins:
+ BuildingGeneralization (1010)
+ FixAddresses (33182)
+ HouseNumberTaggingTool (33160)
+ Mapillary (v1.4.2)
+ OpeningHoursEditor (33185)
+ PicLayer (33148)
+ RoadSigns (33204)
+ apache-commons (32994)
+ apache-http (32699)
+ buildings_tools (33004)
+ contourmerge (1030)
+ ejml (32680)
+ geotools (33042)
+ importvec (33088)
+ jna (32699)
+ jts (32699)
+ log4j (32699)
+ opendata (33197)
+ pt_assistant (33108)
+ reverter (33088)
+ tag2link (33035)
+ tageditor (33021)
+ todo (30000)
+ turnlanes-tagging (254)
+ undelete (32699)
+ utilsplugin2 (33212)
+ waydownloader (33167)

Tagging presets:
+ https://josm.openstreetmap.de/josmfile?page=Presets/Allergy&preset&zip=1
+ https://josm.openstreetmap.de/josmfile?page=Presets/BENELUX&zip=1
+ https://josm.openstreetmap.de/josmfile?page=Presets/Leaftype&preset&zip=1
+ https://josm.openstreetmap.de/josmfile?page=Presets/NewParkingFeatures&preset&zip=1
+ https://josm.openstreetmap.de/josmfile?page=Presets/Playground_Equipment&preset&zip=1
+ https://josm.openstreetmap.de/josmfile?page=Presets/ParkingLanes&preset&zip=1
+ <josm.pref>/own/Oneway.xml
+ https://josm.openstreetmap.de/josmfile?page=Presets/NewTags&zip=1
+ https://josm.openstreetmap.de/josmfile?page=Presets/BloodDonation&zip=1

Map paint styles:
+ https://josm.openstreetmap.de/josmfile?page=Styles/Lane_and_Road_Attributes&zip=1
- https://josm.openstreetmap.de/josmfile?page=Styles/Cycleways&style&zip=1
- https://josm.openstreetmap.de/josmfile?page=Styles/ParkingLanes&style&zip=1
- https://josm.openstreetmap.de/josmfile?page=Styles/LessObtrusiveNodes&zip=1
- <josm.pref>/own/agiv-map.mapcss
- https://josm.openstreetmap.de/josmfile?page=Styles/Sidewalks&zip=1
- <josm.pref>/own/Styles_NumberedCycleNodeNetworks-style.mapcss
- https://josm.openstreetmap.de/josmfile?page=Styles/PublicTransport&zip=1
+ https://github.com/gmgeo/osmic-josm-style/archive/master.zip

Last errors/warnings:
- W: Old style SideButton usage for action org.openstreetmap.josm.plugins.todo.TodoDialog$SelectAction@4febf491
- W: Old style SideButton usage for action org.openstreetmap.josm.plugins.todo.TodoDialog$AddAction@323d2c92
- W: Old style SideButton usage for action org.openstreetmap.josm.plugins.todo.TodoDialog$PassAction@183098c5
- W: Old style SideButton usage for action org.openstreetmap.josm.plugins.todo.TodoDialog$MarkAction@4496f8b8
- E: Handled by bug report queue: java.awt.IllegalComponentStateException: component must be showing on the screen to determine its location
- E: Handled by bug report queue: java.awt.IllegalComponentStateException: component must be showing on the screen to determine its location
- E: Handled by bug report queue: java.awt.IllegalComponentStateException: component must be showing on the screen to determine its location


=== REPORTED CRASH DATA ===
BugReportExceptionHandler#handleException:
No data collected.

Warning issued by: BugReportExceptionHandler#handleException

=== STACK TRACE ===
Thread: AWT-EventQueue-0 (17) of main
java.awt.IllegalComponentStateException: component must be showing on the screen to determine its location
	at java.awt.Component.getLocationOnScreen_NoTreeLock(Component.java:2062)
	at java.awt.Component.getLocationOnScreen(Component.java:2036)
	at javax.swing.JPopupMenu.show(JPopupMenu.java:948)
	at org.openstreetmap.josm.plugins.mapillary.gui.imageinfo.ImageInfoHelpPopup.showPopup(ImageInfoHelpPopup.java:77)
	at org.openstreetmap.josm.plugins.mapillary.gui.MapillaryMainDialog.updateImage(MapillaryMainDialog.java:208)
	at org.openstreetmap.josm.plugins.mapillary.mode.SelectMode.mouseMoved(SelectMode.java:176)
	at java.awt.AWTEventMulticaster.mouseMoved(AWTEventMulticaster.java:330)
	at java.awt.Component.processMouseMotionEvent(Component.java:6578)
	at javax.swing.JComponent.processMouseMotionEvent(JComponent.java:3342)
	at java.awt.Component.processEvent(Component.java:6302)
	at java.awt.Container.processEvent(Container.java:2236)
	at java.awt.Component.dispatchEventImpl(Component.java:4889)
	at java.awt.Container.dispatchEventImpl(Container.java:2294)
	at java.awt.Component.dispatchEvent(Component.java:4711)
	at java.awt.LightweightDispatcher.retargetMouseEvent(Container.java:4888)
	at java.awt.LightweightDispatcher.processMouseEvent(Container.java:4538)
	at java.awt.LightweightDispatcher.dispatchEvent(Container.java:4466)
	at java.awt.Container.dispatchEventImpl(Container.java:2280)
	at java.awt.Window.dispatchEventImpl(Window.java:2746)
	at java.awt.Component.dispatchEvent(Component.java:4711)
	at java.awt.EventQueue.dispatchEventImpl(EventQueue.java:758)
	at java.awt.EventQueue.access$500(EventQueue.java:97)
	at java.awt.EventQueue$3.run(EventQueue.java:709)
	at java.awt.EventQueue$3.run(EventQueue.java:703)
	at java.security.AccessController.doPrivileged(Native Method)
	at java.security.ProtectionDomain$JavaSecurityAccessImpl.doIntersectionPrivilege(ProtectionDomain.java:80)
	at java.security.ProtectionDomain$JavaSecurityAccessImpl.doIntersectionPrivilege(ProtectionDomain.java:90)
	at java.awt.EventQueue$4.run(EventQueue.java:731)
	at java.awt.EventQueue$4.run(EventQueue.java:729)
	at java.security.AccessController.doPrivileged(Native Method)
	at java.security.ProtectionDomain$JavaSecurityAccessImpl.doIntersectionPrivilege(ProtectionDomain.java:80)
	at java.awt.EventQueue.dispatchEvent(EventQueue.java:728)
	at java.awt.EventDispatchThread.pumpOneEventForFilters(EventDispatchThread.java:201)
	at java.awt.EventDispatchThread.pumpEventsForFilter(EventDispatchThread.java:116)
	at java.awt.EventDispatchThread.pumpEventsForHierarchy(EventDispatchThread.java:105)
	at java.awt.EventDispatchThread.pumpEvents(EventDispatchThread.java:101)
	at java.awt.EventDispatchThread.pumpEvents(EventDispatchThread.java:93)
	at java.awt.EventDispatchThread.run(EventDispatchThread.java:82)