Change names in heat map combobox
Description
What steps will reproduce the problem?
Open preferences
Open combobox for change color schema for heat map.
The names in combobox is not color names I think.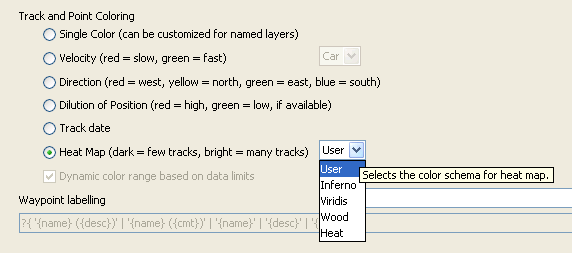 What is the expected result?
Names that is color names.

Maybe something like what I can see in the code.
Wood -> brown2green
Heat -> red2blue

What happens instead?
Names that is not color names.
Wood is already translated, but in the meaning for material.

Please provide any additional information below. Attach a screenshot if possible.
URL:http://josm.openstreetmap.de/svn/trunk
Repository:UUID: 0c6e7542-c601-0410-84e7-c038aed88b3b
Last:Changed Date: 2017-01-14 21:10:48 +0100 (Sat, 14 Jan 2017)
Build-Date:2017-01-15 02:35:18
Revision:11463
Relative:URL: ^/trunk

Identification: JOSM/1.5 (11463 en) Windows XP 32-Bit
Memory Usage: 231 MB / 247 MB (106 MB allocated, but free)
Java version: 1.8.0_111-b14, Oracle Corporation, Java HotSpot(TM) Client VM
Screen: \Display0 1152x864
Maximum Screen Size: 1152x864
VM arguments: [-Duser.home=%UserProfile%]

Plugins:
+ BuildingGeneralization (1010)
+ DxfImport (1008)
+ Mapillary (v1.3.2)
+ PicLayer (33088)
+ ShapeTools (1220)
+ apache-commons (32994)
+ apache-http (32699)
+ areaselector (1478814827)
+ continuosDownload (53)
+ junctionchecking (33088)
+ log4j (32699)
+ pdfimport (33004)
+ pt_assistant (33108)
+ reverter (33088)
+ tageditor (33021)
+ todo (30000)
+ turnlanes-tagging (254)
+ turnrestrictions (33088)
+ utilsplugin2 (33088)
+ wikipedia (33098)

Map paint styles:
- https://josm.openstreetmap.de/josmfile?page=Styles/Lane_and_Road_Attributes&zip=1

Last errors/warnings:
- W: Old style SideButton usage for action org.openstreetmap.josm.plugins.todo.TodoDialog$SelectAction@138c01a
- W: Old style SideButton usage for action org.openstreetmap.josm.plugins.todo.TodoDialog$AddAction@1a69953
- W: Old style SideButton usage for action org.openstreetmap.josm.plugins.todo.TodoDialog$PassAction@4eaab4
- W: Old style SideButton usage for action org.openstreetmap.josm.plugins.todo.TodoDialog$MarkAction@e06e61
- W: Unable to get color from '' for color preference 'extrude.main.line'
- W: Unable to get color from '' for color preference 'improve.way.accuracy.helper.line'
- W: Unable to get color from '' for color preference 'make.parallel.helper.line'
- W: Unable to get color from '' for color preference 'extrude.main.line'
- W: Unable to get color from '' for color preference 'improve.way.accuracy.helper.line'
- W: Unable to get color from '' for color preference 'make.parallel.helper.line'