Fix the table header of the filter dialog box
What steps will reproduce the problem?
Open the filter dialog box (ALT + SHIFT + F)
What is the expected result?
The header of the filter table should show strings or meaningful abbreviations. Abbreviations should be accompanied with tool tips.

What happens instead?
The table header shows dots/... instead. The (invisible) abbreviations don't show tool tips.

Please provide any additional information below. Attach a screenshot if possible.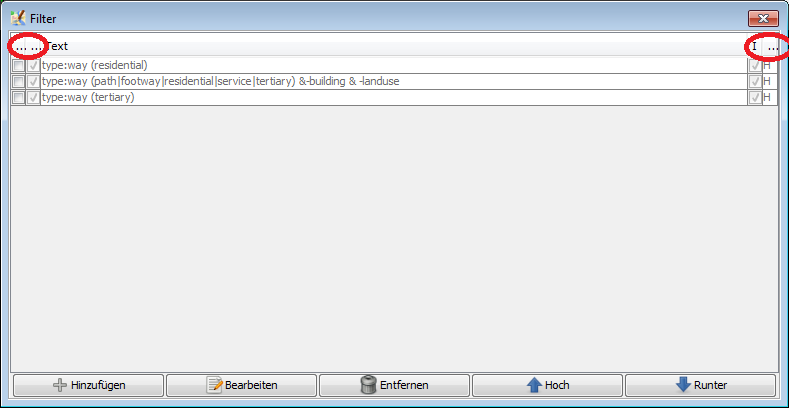 URL:http://josm.openstreetmap.de/svn/trunk
Repository:UUID: 0c6e7542-c601-0410-84e7-c038aed88b3b
Last:Changed Date: 2017-01-02 00:53:29 +0100 (Mon, 02 Jan 2017)
Build-Date:2017-01-02 02:33:21
Revision:11427
Relative:URL: ^/trunk

Identification: JOSM/1.5 (11427 de) Windows 7 64-Bit
Memory Usage: 426 MB / 910 MB (221 MB allocated, but free)
Java version: 1.8.0_111-b14, Oracle Corporation, Java HotSpot(TM) 64-Bit Server VM
Screen: \Display0 1600x1200
Maximum Screen Size: 1600x1200
VM arguments: [-Djava.security.manager, -Djava.security.policy=file:<java.home>\lib\security\javaws.policy, -DtrustProxy=true, -Djnlpx.home=<java.home>\bin, -Djnlpx.origFilenameArg=%UserProfile%\AppData\LocalLow\Sun\Java\Deployment\cache\6.0\56\1ee8cfb8-58b92469, -Djnlpx.remove=false, -Djava.util.Arrays.useLegacyMergeSort=true, -Djnlpx.splashport=63942, -Djnlp.application.href=https://josm.openstreetmap.de/download/josm.jnlp, -Djnlpx.jvm=<java.home>\bin\javaw.exe, -Djnlpx.vmargs=LURqYXZhLnV0aWwuQXJyYXlzLnVzZUxlZ2FjeU1lcmdlU29ydD10cnVlAC1Eam5scC5hcHBsaWNhdGlvbi5ocmVmPWh0dHBzOi8vam9zbS5vcGVuc3RyZWV0bWFwLmRlL2Rvd25sb2FkL2pvc20uam5scAA=]
Dataset consistency test: No problems found

Plugins:
+ FixAddresses (33004)
+ buildings_tools (33004)