add icons to preset `<check>`s
It would be great if we could add icons to preset <check>s.

(It already works for <combo>s and <label>s)

I just added icons to the entrance and crossing combos in r10437:

In context of #11006 I would like to add the different public transport icons to the stop_position preset, see the following screenshot. That would make it much more clear for the user, which icon belongs to which tag. The icon should be placed between the checkbox and its text.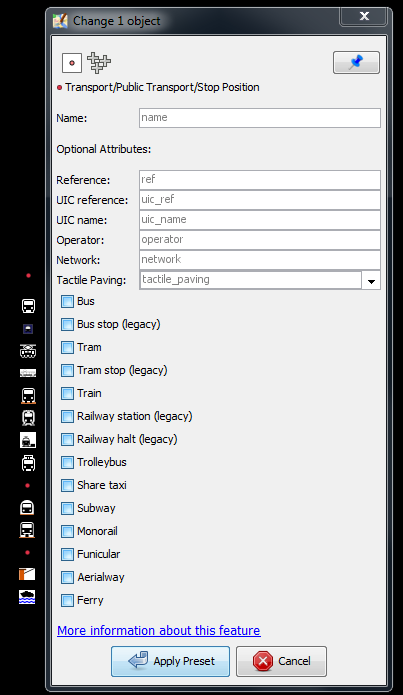 URL:http://josm.openstreetmap.de/svn/trunk
Repository:UUID: 0c6e7542-c601-0410-84e7-c038aed88b3b
Last:Changed Date: 2016-06-20 02:47:43 +0200 (Mon, 20 Jun 2016)
Build-Date:2016-06-20 01:34:14
Revision:10436
Relative:URL: ^/trunk

Identification: JOSM/1.5 (10436 en) Windows 7 32-Bit
Memory Usage: 247 MB / 742 MB (110 MB allocated, but free)
Java version: 1.8.0_91-b14, Oracle Corporation, Java HotSpot(TM) Client VM
VM arguments: [-Djava.security.manager, -Djava.security.policy=file:<java.home>\lib\security\javaws.policy, -DtrustProxy=true, -Djnlpx.home=<java.home>\bin, -Djnlpx.origFilenameArg=C:\Program Files\josm-latest-bla.jnlp, -Djnlpx.remove=false, -Djava.util.Arrays.useLegacyMergeSort=true, -Djnlpx.heapsize=256m,768m, -Djnlpx.splashport=56579, -Djnlpx.jvm=<java.home>\bin\javaw.exe, -Djnlpx.vmargs=LURqYXZhLnV0aWwuQXJyYXlzLnVzZUxlZ2FjeU1lcmdlU29ydD10cnVlAA==]
Dataset consistency test: No problems found