The word Ford can mean two things
Description
What steps will reproduce the problem?
The word Ford translated into Danish can mean two things.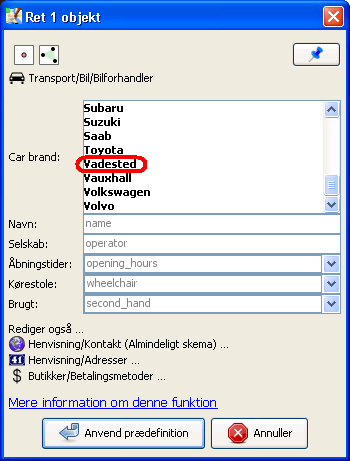 What is the expected result?
Possibility of two different translations of Ford in launchpad.

What happens instead?
Only one translation available in launchpad.

Please provide any additional information below. Attach a screenshot if possible.
URL:http://josm.openstreetmap.de/svn/trunk
Repository:UUID: 0c6e7542-c601-0410-84e7-c038aed88b3b
Last:Changed Date: 2015-12-04 01:53:17 +0100 (Fri, 04 Dec 2015)
Build-Date:2015-12-04 02:33:52
Revision:9082
Relative:URL: ^/trunk

Identification: JOSM/1.5 (9082 da) Windows XP 32-Bit
Memory Usage: 123 MB / 123 MB (37 MB allocated, but free)
Java version: 1.8.0_66, Oracle Corporation, Java HotSpot(TM) Client VM
VM arguments: [-Duser.home=D:\PortableApps\JavaPortableLauncher\Data\AppData]
Dataset consistency test: No problems found

Plugins:
- Mapillary (31772)
- apache-commons (31772)
- apache-http (31772)
- continuosDownload (1446070193)
- ejml (31772)
- geotools (31774)
- jts (31772)
- opendata (31772)
- rex (1884)
- turnlanes (31772)
- turnrestrictions (31772)
- utilsplugin2 (31772)

Change History
(3)
Cc:
Klumbumbus stoecker added
Component:

Core

→

Internal preset

Keywords:
i18n car brand added
Milestone:
→

15.12
Resolution:
→

fixed

Status:

new

→

closed