Move Node onto Way action moves the way aswell
What steps will reproduce the problem?
use Move Node onto Way action
What is the expected result?
the node is part of the way without changing the direction of the way

What happens instead?
the way moves; the angle of the parts of the way before and after the node is not 180°

Please provide any additional information below. Attach a screenshot if possible.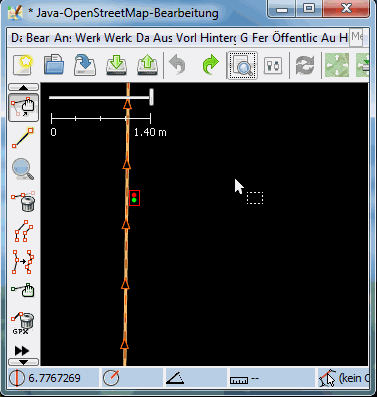 Revision: 8435
Repository Root: http://josm.openstreetmap.de/svn
Relative URL: ^/trunk
Last Changed Author: Don-vip
Last Changed Date: 2015-05-31 17:06:27 +0200 (Sun, 31 May 2015)
Build-Date: 2015-06-01 01:32:17
URL: http://josm.openstreetmap.de/svn/trunk
Repository UUID: 0c6e7542-c601-0410-84e7-c038aed88b3b
Last Changed Rev: 8435

Identification: JOSM/1.5 (8435 de) Windows 7 32-Bit
Memory Usage: 290 MB / 742 MB (113 MB allocated, but free)
Java version: 1.8.0_45, Oracle Corporation, Java HotSpot(TM) Client VM
VM arguments: [-Djava.security.manager, -Djava.security.policy=file:C:\Program Files\Java\jre1.8.0_45\lib\security\javaws.policy, -DtrustProxy=true, -Djnlpx.home=<java.home>\bin, -Djnlpx.origFilenameArg=C:\Program Files\josm-latest-bla.jnlp, -Djnlpx.remove=false, -Djava.util.Arrays.useLegacyMergeSort=true, -Djnlpx.heapsize=256m,768m, -Djnlpx.splashport=64525, -Djnlpx.jvm=<java.home>\bin\javaw.exe, -Djnlpx.vmargs=LURqYXZhLnV0aWwuQXJyYXlzLnVzZUxlZ2FjeU1lcmdlU29ydD10cnVlAA==]
Dataset consistency test: No problems found

Plugins:
- DirectDownload (30892)
- DirectUpload (30892)
- HouseNumberTaggingTool (30892)
- OpeningHoursEditor (30962)
- PicLayer (31114)
- RoadSigns (30977)
- buildings_tools (31120)
- download_along (30892)
- editgpx (30892)
- imagery_offset_db (31056)
- measurement (30892)
- mirrored_download (30962)
- photo_geotagging (30967)
- photoadjust (30964)
- public_transport (31114)
- reltoolbox (31056)
- reverter (31120)
- tag2link (31066)
- terracer (30892)
- turnrestrictions (31034)
- undelete (30892)
- utilsplugin2 (31153)
- wikipedia (31114)

Last errors/warnings:
- W: Could not get presets icon presets/State_Public.png
- E: Fehler beim Laden des Bildes 'error_small.png'
- W: Mappaint style "standard" (FIXME Highlight Warnings) icon "error_small.png" not found.
- W: JCS TMS Cache - error creating URL for tile 19/274882/173861@Bing Luftbild: Attribution is not loaded yet
- W: No url returned for: 19/274882/173861@Bing Luftbild, skipping