перекладається
Правка > Вилучити
Дозволяє користувачу вилучати точки та інші об'єкти.
Вилучення об'єктів
Користувач може клацнути на об'єкт, який треба вилучити, якщо це можливо.
Якщо точка не є частиною лінії — точка вилучається.
Якщо точка є частиною лінії — точка вилучається.

Якщо точка є кінцевою — лінія скорочується до наступної точки.
Якщо точка знаходиться в середині лінії — лінія спрямиться між двома сусідніми точками, що лишились.

Якщо користувач клацне на лінію — лінія та всі її точки, які не входять до складу інших ліній, будуть вилучені.
Коли натиснуто Alt, під час використання цього інструменту, буде вилучено лінію, а всі її точки залишаться.
Коли натиснуто Shift, під час використання цього інструменту, відрізок на який ви клацнете буде вилучений, а лінія буде розділена на дві частини.
When Ctrl is pressed when releasing the button, the objects and all its references are deleted. The exact definition of all its references is:
If a node is deleted, the node and all ways and areas the node is part of are deleted as well.
If a way is deleted, only the way and no nodes are deleted.
If an area is deleted, only the area gets deleted.
The following key shortcuts are defined:
If the user did not press Ctrl and the object has any references, the user is informed and nothing is deleted.
Note: in some Linux desktop environment (e.g. KDE) the Alt-click event is captured to perform actions like dragging the window across the screen. To reclaim this combination to Josm you have to open the Control Center, click on Desktop, Window Behaviour, Actions and change the modifier key to something different than Alt.
Deleting objects being part of relations
If you delete an object which is part of a relation the object has to be removed from the relation. JOSM doesn't silently do so. Rather, the following confirmation dialog is displayed: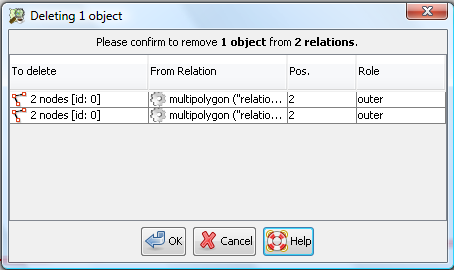 The entries in the displayed list indicate from which relations (second column in the table) the object (or the objects, if you delete more than one object) have to be removed.
Click Cancel if you don't want to remove the objects from these relations. In this case, JOSM doesn't delete the objects either, the operation is aborted. Click OK if you agree with removing the objects from the displayed relations.
See also
---
Back to Main Help