Upload to OSM
Geo data edited in JOSM is only available locally and only usable by the user who entered the data unless the user decides to make it available to the community too. In order to publish data the user has to upload it. Uploading means that the geo data is transferred to a central server run by the OSM community where it is integraded with geo data from other mappers in a central database. It's by uploading data that locally edited geo data both becomes part of the ​public maps and can be used by other members of the OSM community.
Changesets and upload requests
Geo data contributed to the OSM server consists of nodes, ways, and relations. Because there are hundreds of mappers publishing their geo data on the OSM server it is important to track who published what data in which context. It would be tedious for mappers to describe for every singe node and every single way why it is published. A more convenient approach is to package a group of related objects and assign the package a comment, not the individual objects.
The OSM project calls such a package a changeset. A changeset is a collection of related changes (new objects, object modifications, or object deletings) applied to OSM data.
Changesets are not equal to upload requests, though. A changeset is a logical grouping of objects whereas an upload request is a technical grouping for the purpose of transferring geo data to the central OSM server only. In JOSM we say, that objects are uploaded using upload requests to a changeset. The JOSM Upload Dialog allows one to configure both aspects of the upload requests to be used and of the changeset objects are uploaded to. Some of the settings are compulsory (i.e. the user has to configure them before he or she can upload geo data) but most of them are optional and JOSM works with reasonable default values.
Geo data can be retrieved later by the changeset it was uploaded to, it can't be retrieved by the upload request used. Changesets have a unique id, upload requests have not. For instance, ​this changeset includes geo data gained by tracing over orthofotos of the city of Bern, Switzerland. It isn't possible, though, to see which and how many upload requests have be used to fill it in.
One upload request into one changeset
In the most simple case there is only one upload request into a changeset: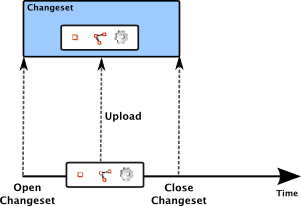 This is the standard configuration used by JOSM. It is the preferred configuration
for users uploading the result of converting a few GPS traces to OSM geo data
for users uploading the result of tracing a few hours over aerial photos
for users uploading the result of entering local knowledge about street names, points of interests, etc.
Multiple uploads into one changeset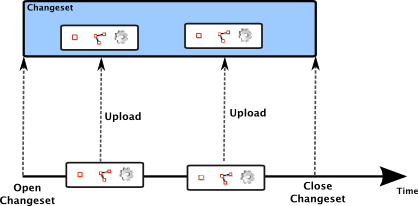 This is an advanced configuration option which most users don't have to enable. It can be useful:
for users who map using multiple data layer in JOSM and who want to upload the result of their work into one changeset
for users who are working in longer mapping session. For them it could be safer to upload intermediate results to the server than to upload the result of the whole session only. In the former case they can use multiple uploads into one changeset which helps them to safe their data without fragmenting them up in unrelated changesets.
JOSM still supports to upload each object individually.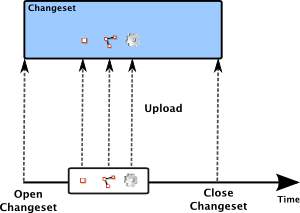 Please note that this is a legacy feature. Until recently, this was the only upload option in OSM. Technically, it uses a slightly different approach to communicate with the OSM server. It is still available in JOSM although the OSM server now supports upload requests with up to 50'000 objects. For the casual and normal user it is almost obsolete. In rare cases, it could be useful for power users.
Uploading large datasets into multiple changeset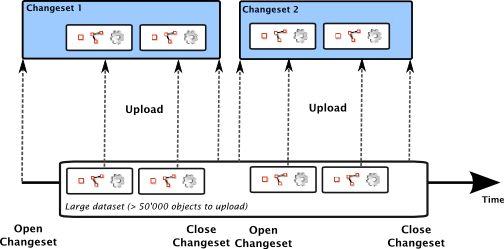 Keyboard shortcut: CTRL+SHIFT+U
When you're happy with the data you generated and/or changed, you need it to upload to the OSM server to be available for everyone.
If the ​Validator plugin is installed, JOSM now performs a quick check on the data. If it finds warnings or errors you'll be presented with a list of them and get the chance to correct the problems and try again or upload anyway. It's not necessary to fix all of that, but please don't go over it easily, especially not the errors.
Finally JOSM will present you with a list of changed or newly created elements for reviewing it. You're also asked to provide a short freetext summary of your edits. This description will be saved with your data on the server and serves information purposes like for example the ​Recent Changes list. If you fixed an error in the data by deleting a way not existing anymore in reality, this is something you should definitely mention.
With your final click on "Upload changes" your data will be uploaded and visible for everyone else.
Please be careful with editing and uploading data. When in doubt that everything is ok, rather refrain from uploading and save the area locally on disk to check back to it later.
There is no simple answer to the question when and how often to upload. You neither should edit the whole day and then upload everything at one nor upload every minute after adding a way. The former to keep data in memory small, make uploads faster and minimize the risk of your edits colliding with someone else editing the same ways in the same area. The latter to minimize the overhead each upload poses on the server in means of CPU time and also database size since each change also means processing and saving some meta information.
If possible group your edits. In logical as well as in geographically units, this also makes it easier to give a good upload summary.
FIXME: explain open changesets
Error and Warning messages
Deleting node which is still in use
If your upload includes a deleted node the OSM server checks if the node is still used in one of the ways known to the server. You have to make sure that the node is isolated (not part of any way and not referred to by any relation) before it can be deleted.
If the OSM server detects that the node is still in use it replies an error message which JOSM displays as follows:

If you click on Prepare conflict resolution JOSM supports you in resolving the issue. First it downloads all ways in which the node is still used and merges them with your current dataset. In most cases, JOSM removes the deleted node from all parent ways automatically. If for some reason this isn't possible, JOSM creates a conflict which you have to resolve manually.
After that, just upload again. Your upload now includes all parent ways of the deleted node and the deleted node is removed from all of them. The upload should therefore succeed.
Attachments
(13)
Download all attachments as: .zip